We could have called this tiramisu dessert revisited, or unstructured apricot pie, or giant verrine to share … so much appellation for this dessert that is simply a succession of layers of biscuits, cream and fruit.

It is a friendly dessert to share, made in a round Pyrex box 16cm in diameter, you can also offer this dessert in individual verrines by doing the same for dressage.

Side association we chose the apricot and almond that goes very well, as I wanted to test the new chocolate bar Nestlé Dessert chocolate and almond, we use it to bring a little gluttony with chocolate … cream is mascarpone mixed with a whipped cream, and the biscuits of palates Breton, but all that can be replaced according to what one has, and what one likes 😉
Ingredients: (for 6 people) :
 
250g of mascarpone
25cl of whole cream
20g of powdered sugar
a plate of white chocolate / almond Nestlé dessert
a pack of Breton pucks
6 to 8 apricots according to their size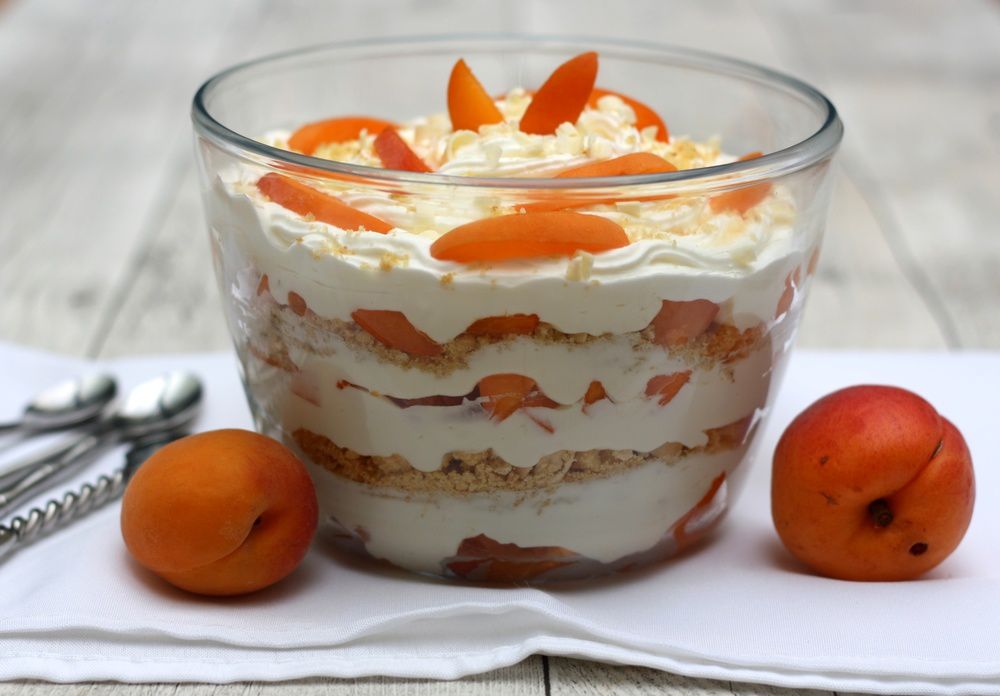 Preparation:
To reduce the Breton pucks in crumbs crumbs, to be done I placed the biscuits in a freezing bag and I tapped on it with a rolling pin.
Cut the apricots into small pieces.
Assemble the liquid cream (very cold) in chantilly, incorporate the sugar at the end of preparation. Pour about one-third of whipped cream in a pastry bag and keep cool (this will be used to decorate the clover once prepared).
Melt the chocolate in a bain-marie.
In a bowl, mix the mascarpone to relax a little, add the melted chocolate, mix well to obtain a smooth and homogeneous preparation. Then add the whipped cream and mix gently with a whisk.
Prepare the trifle, distribute successively: apricot, layer of cream and crumbled biscuits. Repeat the process so on until all the ingredients are gone.
Finish with a nice layer of whipped cream using a piping bag, making the pattern of your choice, sprinkle some Breton crumbs and white chocolate chips (just rub the chocolate with a thriftener to quickly make chips) and finally some pieces of apricots.