Wednesday July 3, 2019 at 20:00
A volcano has erupted on the Italian island of Stromboli, killing one person and sending frightened tourists fleeing.
The victim is a male hiker who was hit by a falling stone, while other people were injured.
The navy has been deployed for a possible mass evacuation, with 70 people already evacuated.
The volcano is one of the most active on the planet and has been under a regular state of eruption since 1932.
« Unfortunately one man is dead, there are a few injured, but none seriously, » emergency worker Calogero Foti told Italy's Rai television.
The victim was a 35-year-old man from Sicily who was hiking when the volcano exploded twice. His Brazilian friend was discovered dehydrated and in a state of shock, the AGI news agency reported.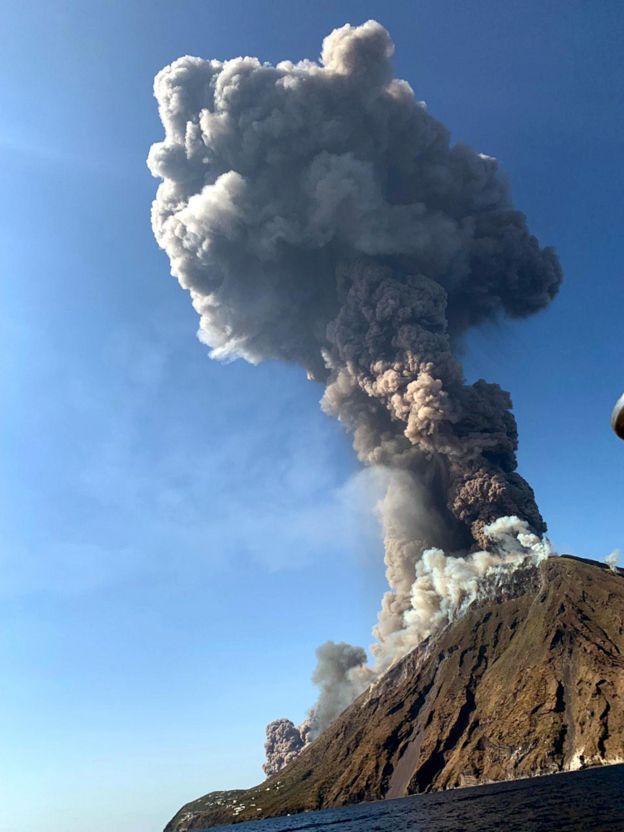 Ash rising from Stromboli after the explosion
Firefighters are battling flames on the island.
« We saw the explosion from the hotel. There was a loud roar, » said Michela Favorito, who works in a hotel on the island.
« We plugged our ears and after this a cloud of ash swept over us. The whole sky is full of ash, a fairly large cloud, » she said.