This delicious Lebanese milk pudding is flavored with cardamom, which gives it a unique taste.
If you cannot find cardamom extract, let a few crushed cardamom pods steep in the hot milk for several minutes until fragrant.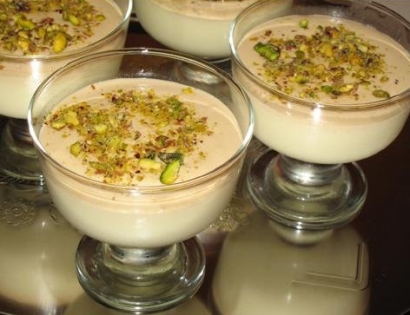 Prep : 15 mins
Cook : 20 mins
Level : Easy
Serves : 6 Persons
Description
Milk pudding called mahalbia in our region. But I call it heavenly. All my friends just love it.
Ingredients
3 cups Milk
¾ cups Sugar
1 cup Cold Water
6 Tablespoons Cornstarch
1 Tablespoon Rose Water
2 whole Cardamom Pods, Crushed
1 cup Thick Cream
Chopped Nuts, Your Preference
Preparation
1. Over medium heat, boil milk and sugar.
2. Mix cold water with cornstarch, combine with the boiled milk.
3. When the mixture thickens like cake batter, turn off heat. Then add rose water with crushed cardamom and thick cream.
4. Let it cool for 2-4 hours. Serve in small plates with nuts on top.
Note: You can use skim milk as you like. Some Arabic regions use rice with it; you can use 1 cup of rice in 2 cups of milk after boiling to bind it.